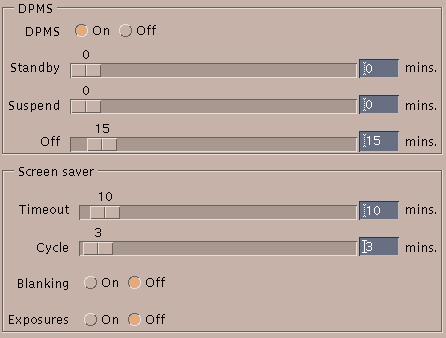 Click on the image to show help on that area.

Enable power savings for monitors and panels.
DPMS enable

When DPMS is On, Accelerated-X turns monitors off at the designated timeouts.

Standby

Set the time until standby mode.

Suspend

Set the time until suspend mode.

Off

Set the time until off mode.

Configure the X screen saver.
The X screen saver provides very basic screen saving functions. If you would like a graphical screen saver, consider programs such as xlock and xscreensaver.
Timeout

Set the time for the screen saver to start. Set to 0 to disable.

Cycle

Set the timeout for the screen saver to change modes.

Blanking

Enable or disable screen blanking.

Exposures

Enable exposure events when stopping the saver.